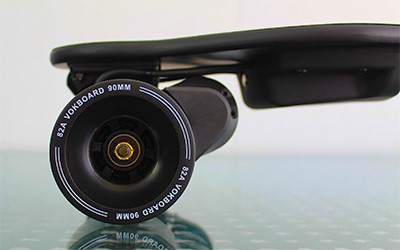 Vokboard is a reasonably new brand to enter the electric skateboard market. Like many Chinese companies before them, who entered the market with really good value offerings to build up their brand name and reputation e.g. Wowgo, Ownboard, Possway et al. Vokboard look to be doing the same, offering the Pilot, a high-spec belt-motor board with enough power and range to satisfy even advanced riders, at a fairly low price point.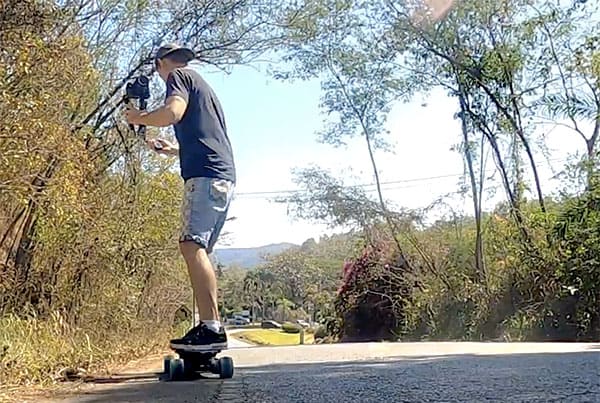 While it's always a bit of a gamble buying from a new brands, my experience talking extensively with Will from Vokboards at length has been nothing but pleasant, and we have conversed extensively about various ESC/controller settings, the pricing and quality of batteries, component options, and recommendations I have for their future boards and marketing videos etc. In fact, I've been so impressed with Vokboard and their level of service, if anyone buys from them and has an issue with customer service, I'd be happy to contact them on your behalf to discuss with them how the problem can be resolved.
In my video review and testing I did a lot of comparisons with the Possway T3, another fairly low-priced board that offers great value for money. It was good to compare the two boards against each other since they are direct competitors (even though one is hub motored and one is belt motored) at least in terms of price and target market at least.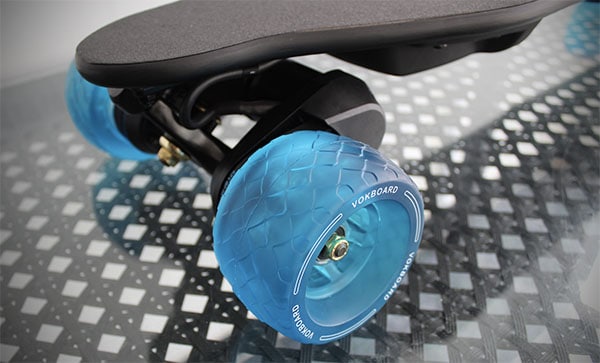 The Pilot ER with 105mm wheels really impressed me with the value for money. I am constantly surprised by some of the great value and high quality offerings coming from many of these companies. The quality keeps getting better and as there is more competition now in the esk8 market than ever before, prices are staying fairly stagnant even as inflation runs wild.
Check out our video review above for a quick breakdown of what we like and don't like about the Pilot. I'll go into a fair bit more detail below, in case you're really looking to find out even more about Vokboard before making your purchase. If you have any questions or comments, feel free to email us anytime or leave a comment under our YouTube videos.
When we were initially contacted by Vokboard, I spoke at length with Will, the Marketing Manager there, and discussed the dilemma of entering a fairly saturated market as a new brand. As I have mentioned in other reviews we have done, new esk8 companies need to have some reason for people give their brand a chance. This will usually come in the form of offering really good value for money products, or sometimes an innovative or unusual feature will be enough for some people to take a chance with a new company.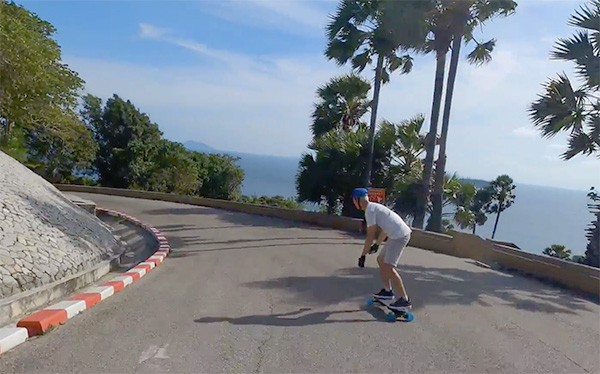 Will claimed that Vokboard have superior quality and customer service to other electric skateboard brands, and while I can't say this so far hasn't held up to be true in my dealings with them, these claims alone are certainly not going to win the brand any new customers.
In true and tried fashion however, offering a good value product, built to a high quality standard for a fairly low price point seems to be a viable strategy, and one I think will work for Vokboard as they emerge as a well-recognized brand on the esk8 scene. As more budget conscious, risk savvy, buyers test out the brand and more people learn about the value for money offering, others will follow.
7 Ply Canadian Maple, 1 Layer Bamboo
Four speed modes – up to 46kmph / 28mph
35-40km / 22-25 mile range
Belt Motor with 90mm Road Wheels and 105mm Cloudwheel Style Wheels
Automatic Board Switch On
Big Battery
Good For Learner and Intermediate Riders
Adjustable brakes
Electric Skateboard Review
When I first unboxed the Pilot I was very surprised to see that my board also came with a wall mount stand for hanging the board up. It came with all the usually accessories, tools, extra belts, rubber for cleaning the board, but the wall mount bracket is something I haven't seen included with any other board before. I thought this was a nice touch.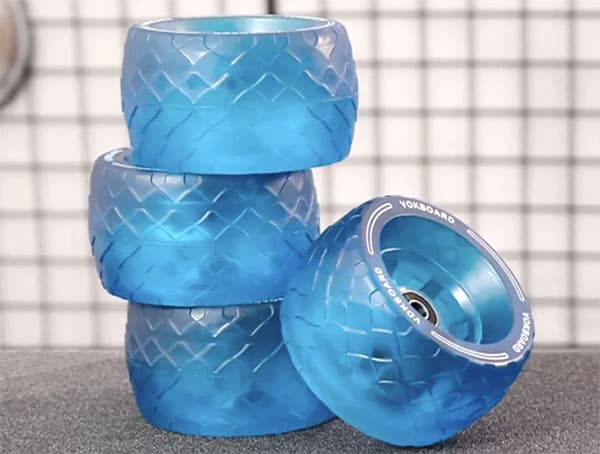 The bright blue wheels really standout too. The hue is really eye catching and as you can see in the pics and video above, look really nice on the board. I had the board ready to test for almost a week before I actually got to ride it, as I had to set up cameara shots for this review of the board while it was still clean first, but once I finally got to ride it once all that was done, I did notice the ergonomic of the board were quite nice, and it was also more powerful than I was expecting.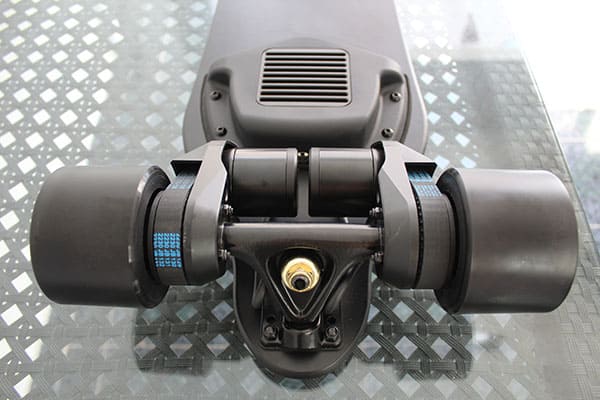 In our opinion the best features of this board are the decent high speed, big battery/range, brisk acceleration compared to competitors in this class, good entry-level price point, and good ergonomics. The flat deck looks clean and is a fairly standard design, it doesn't stand out per se, but it also doesn't look unattractive in any way.
The 105mm wheels really shine on the board, but if you prefer to ride with street wheels, the black 90mm road wheels make the board look more stealthy and unassuming, which will be a good thing if you ride in a place where the police have a tendency to pick on esk8 riders.
Because of the large battery that comes with the Pilot, the range on this board is quite impressive. Your range should be slightly higher on the 90mm road wheels, although I was surprised how minimal the difference in range was on the different wheels.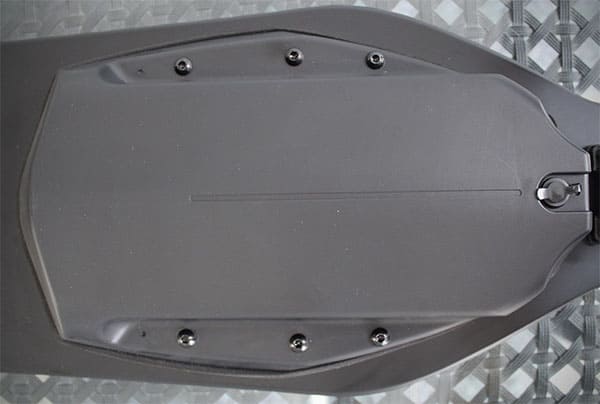 I was not able to reach the lower limit of the claimed range of 35km / 22 mile range during my testing on either the 90mm or 105mm wheels, but fell only a few kilometers short of it. I managed to get to 32kms on the 105mm wheels and just over 33kms on the 90mm in testing I did after I filmed the above review video.
The board is claimed to go at up to 46kmph / 28mph at full speed on flat ground. Surprisingly, I was able to outdo these numbers and hit 48kmph on my board during one of our tests. It's quite unusual to be able to beat the numbers claimed by a manufacturer, and I was not able to replicate that a second time but I did hit 47kmph a few times while trying.
The board feels extremely stable at speed – with the bushings tightened up slightly more than from stock – and often I would find myself riding faster than I though I was going because the feel, feedback and ergonomics of the board make you feel confident and safe even at speed.
The Pilot is rated IP56 for dust and water resistance. This means the board has the second highest rating for dust resistance and the highest rating for water resistance. I took my board off road and even attempted to ride through sand, getting it sufficiently dirty enough that I believe the dust rating to be legitimate, but I didn't take my board through more than a few small puddles or patchy, slightly wet roads to test how much water it can stand.
With the highest water proof rating there is, however, you should be okay to ride in light rain, but it's still probably a bad idea anyway, not only because it may affect your board in the long run but also because it's a lot more dangerous.
This section covers one of the best and one of the worst features about this board. The acceleration of the Pilot and Pilot ER boards is great. It feels torquey, accelerates smoothly, but doesn't jerk as the power comes on, leaving the rider feeling well in control even at full throttle. The Lingyi ESC gives a smooth power curve and the controller and throttle response feel intuitive at any speed.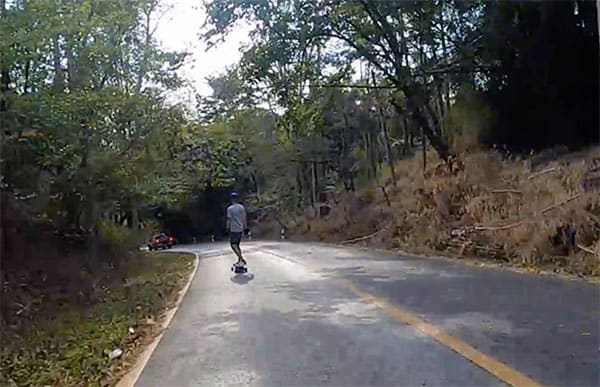 The braking is less impressive however. I was testing the board on some fairly extreme hills and the board struggled at over 15 degrees going up, and at more than 20 degrees going down the brakes were unable to bring the board to a complete stop. At around 25 degrees on the downhill the board would continue to roll and even accelerate even with brakes on the highest setting and pressed on as hard as possible.
It might be possible to tighten the belts slightly to improve this, but as I mention in the video review, most people rarely go down hills that steep anyway, as many cars also struggle with mountains of such magnitude.
The remote feels nice, it looks a bit more polished than some other generic looking remotes, with a hold for your index finger and the standard band to keep it secure around the wrist.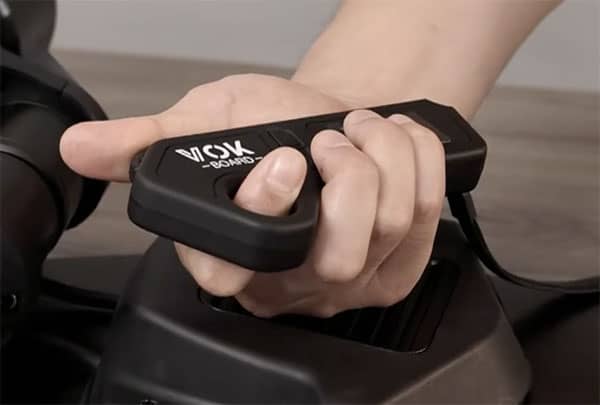 The display shows all the standard information that most electric skateboard remotes show, with nothing exceptionally standout worth mentio
The deck is made up of 7 layers of Canadian Maple and 1 layer of bamboo. It's a completely flat desk, with no concave at all. The design is aesthetic without bringing too much attention to the board. 
The deck has some flex, although only a moderate amount. Flat decks in this electric skateboard category are often a nice mix between flexibility and stiffness, and the deck of the Pilot is no exception.

The 90mm road wheels are fairly generic, they grip well and offer a ride typical of what you would get from most other standard 90mm wheels. I cannot fault them. They look stealthy and quite sleek too, with the black wheels on the black board.
The 105mm blue wheels really stand out in terms of looks and I prefer to feel of riding with these compared to the road wheels. They absorb bumps better, while still gripping really well. I did notice some wear and small cracks forming in my wheels after some rigorous off-road testing however. The softer rubber is better for grip but will also wear faster than harder compound wheels.
As I have mentioned above I tested the board on some very steep inclines and declines. We also did several hill climb tests comparing the Pilot ER to the Possway T3.
In the testing, the extra torque of the belt motored Pilot ER made the T3 look a bit weak, even though it's really not, as the Pilot was able to eat up hills significantly faster.
The Vokboard Pilot weighs only 6.8kg (15lbs) so it's fairly light, which makes it quite portable and easy to carry around. The weight is impressive considering the size of the battery that comes with the board.
The board's dimensions are 95cm x 23cm x 12.5cm (37.5″ x 9.0″ x 4.9″) which is fairly standard for boards in this category. There's nothing really exceptional about the size, except that the board is quite light considering the battery, belt motors – which is always a good thing.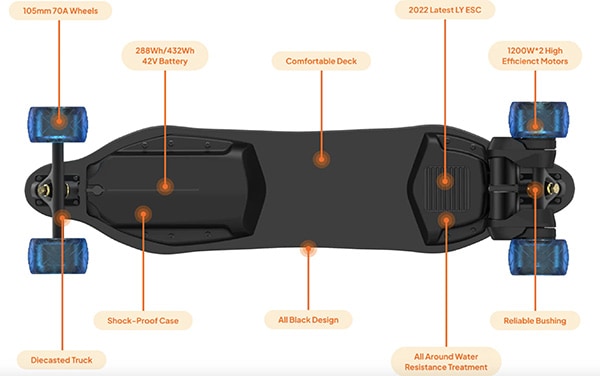 How Long Does the Vokboard Pilot Take to Charge?
The Vokboard Pilot takes about 5 hours to charge from completely flat to fully charged.
Is the Pilot the right board for you?
If you're looking for a great beginner board which will give you plenty of room to grow into as your skills improve, or are already an intermediate rider looking to upgrade, but you're on a budget, the Pilot is a great choice for you and should definitely be on your shortlist.
The board offers great value, portability, practicality and impressive specs that will get you around town, across campus, or to and from work, with ease. At the time of posting this, pricing is US$499 for the Pilot (Standard Version) or US$599 for the Pilot ER, and you can save even more by using the code: INDEX when you purchase your board from the Vokboard website.
Why We Recommend This Board
As we have mentioned in previous reviews, the budget board category for esk8 is extremely competitive. There are also a lot of fairly new brands that build cheap junk or attempt to sell overpriced boards with unimpressive specs and end up failing miserably and shutting up shop after a short time period.
Vokboard stands out among these brands, offering a good quality, impressively powerful and very good value boards for was can only be considered as great value at such low prices in 2023.
The board's design is modest, but with such a large battery offering impressive range, solid construction, powerful and torquey belt motors, ergonomic controller and great acceleration, this board is sure to be a crowd pleaser and I think it will go the same way that the T3 has, and do a great deal to build the brand image for Vokboard.
For me personally, I've just sent my Pilot ER to Taiwan (sans battery), so I'll have something to ride for the next month while I stay there. Taipei is one of my favourite cities for electric skateboarding and the Pilot ER is the perfect mix of portability, speed and comfort for the sidewalks and bike paths of Taipei.
Will and the team at Vokboard kindly sent me a second battery from China (since I can't send batteries this big in the post myself), and I can't wait to tear up the streets over there on my Pilot.
Click Here to use our Discount Code: INDEX at Checkout to get an extra US$20 Off Vokboard boards!
4.80 – Awesome specs and dynamics in a light and portable, great value package!