Teamgee H9 Electric Skateboard Review
One could rattle off the many benefits and features of the Teamgee skateboard. It has futuristic ultra-thin polymer lithium batteries and an amazing 960W DC brushless hub motor. But, what makes this board remarkable is how sturdy it is, considering its relatively small size. Even bounding over cobblestones, the Teamgee skateboard H9 still feels solid and secure. It will provide a smooth and in-control ride.
Teamgee Skateboard Profile
Top speed of 25 mph / 40Kph
A single 960-watt hub motor
15.3 lbs / 6.95kg carry weight
11-mile / 18km range
Maplewood and fiberglass deck
2 Hour Charge Time
The Teamgee board is brilliant because it is durable, it offers a smooth ride, and it is remarkably well balanced. You have to remember that within this board is a highly sophisticated, mighty, and thin, polymer battery. Yet, this board is not too big, ugly, overly heavy, or weak. It is otherworldly how the Teamgee H9 has managed to stuff this board with so much advanced technology.
All the technology is hidden, however. There is no external motor or powerful capsule, and the high-tech components are within. That's why the Teamgee electric longboard is so well balanced. This electric skateboard with remote control can reach speeds of up to 23 mph and is capable of 20% grade hill climbing.
The top speed is 25 mph, but most users of average height won't reach over 23 mph. Its high-performance battery only needs two hours of charging, and it will allow you to ride for up to 11 hours. Though, do note that the number of miles it can give depends upon the weight of the user, road conditions, terrain, and so forth.
The battery is woven deep into the board, and yet it is replaceable. You can get 150 miles out of the board without ever noticing a drop in the battery's efficiency. After around two to three years, you can replace it.
Of course, you can use the board without a charge, and it would feel as a little heavier than a regular mid-sized board. Each unit ships with the battery already prepped, but you should read the instructions and fully charge it before heading for a ride.
Despite being built with the hardcore rider in mind, this board is very novice-accessible. That's because of its efficient remote control, quality shock absorber, large wheels, and smooth riding. The highly elastic and robust wheels mean that slipping is not a problem.
Also, this board's deceleration is as gentle or harsh as the various brake settings decide. As a result, this fantastic piece of technology may be a suitable tool for teaching new riders how to balance and control their board.
The everyday user is going to enjoy this board because while on cruise control, it asks very little of you. Keeping your balance is easy, even when tired, and the board is not overly complicated to control. It may not be suitable for extreme tricks, but it offers a consistent ride for people who have places to go. It is dependable, and its battery lasts far longer than most in its price range.
960W DC Brushless Hub Motor
For those of you who are unaware, brushless motors are a significant step up from the old brush-equipped models. The fact Teamgee went brushless for this very durable electric skateboard guarantees longevity and stable performance.
Back in the day, brushes provided the electricity to the motor, but they would wear out. Also, they were inefficient. The best electric longboards available have skateboard motors of high-quality parts like brushless motors, ensuring you have a lower chance of hardware-related accidents. Not only is a brushless motor more reliable and efficient, but it is also less likely to suffer damage from overuse and abuse. It boasts 960 watts of power, which means your board will reach 20+ mph reasonably quickly.
Replaceable Strong PU Wheels
The wheels are large, which means you get added control. They are durable and with a fair amount of grip on dry surfaces. The wheels, however, do not do so well in very wet conditions. But that is the price you pay for extra sturdiness.
If you are a regular user and your wheels take a lot of abuse, you can quickly replace them. The first time you use your brakes when you ride, you will notice a short lag between control and action. After that point, the brakes and the wheels should work in perfect harmony to bring you to a stop whenever you need to.
The Internal Battery and the Remote
The remote has an elegant layout so that it is efficient and intuitive. And it works instantly to help you control your board. It is easy to use, something that's quite handy when you need to react quickly.
The built-in ultra-thin polymer lithium batteries are a technological marvel. A mesh of rubbery plastic batteries nestles within the board. They can handle a substantial charge and disseminate power very efficiently. They are not heavy, they do not compromise the board's balance, and they can take knocks and bumps without a problem.
Who Should Buy This Board?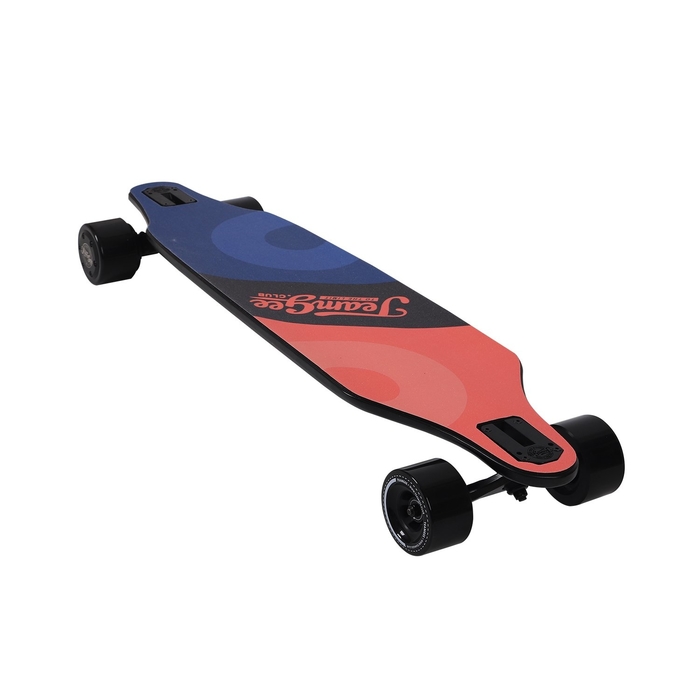 People who commute every day and mostly ride through flat neighborhoods should get this skateboard. If you're looking for a great mid-range board at an excellent price, we think that the Teamgee H9 is one of the best budget skateboards for those who are price-conscious. The only two downsides to this skateboard are that you cannot splash through big puddles, and you can't go up steep hills.
Most electric skateboards, this one included, will not handle more than a 20% incline. However, if you have a daily commute, even if it goes over some rough concrete areas, then this is the board for you.
Why We Recommend This Board
Thanks to the Teamgee skateboard shock absorber and the large wheels, his board offers a great deal of control. In terms of everyday use, this board provides consistent performance and the ability to ride over rougher terrain.
Also, it is beginner-friendly, and it has intuitive, easy-to-use controls. We will conclude this Teamgee H9 review with the battery. It's potent, discreet, and you can swap it with no fuss.
4.6 – Ideal e-board for daily commuters looking for a well built, lightweight option that isn't gonna make your arm fall off carrying it upstairs. Fast charge time is a nice addition. Still looking for other mid-range options? The WowGo 3 is an excellent pick.