Loaded Boards Electric Skateboard Kit Review
Just imagine being able to trick out your favorite Loaded longboards with an electric longboard conversion kit. That's precisely the convenience you get with the Loaded's longboard motor kit. And here are some of the main highlights before you delve deep into the characteristics that make this unit special.
Loaded Boards Unlimited Electric Skateboard Kit Profile
Single or dual motor
23 mph top speed
Single-motor kit only adds 4.4 lbs. to your board
The 7-mile range on the single-battery, 840-watt model
Loaded Boards Unlimited Electric Skateboard Kit Review
From the early 2000s onwards, Loaded skateboards have been at the forefront of innovative premium design. And the company's electric skateboard kit is no different. But what are the features that make this conversion kit stay one step ahead of the competition?
Right out of the box, you are getting a powerful motor that has been custom-engineered for Loaded. The base plate is carbon, and it does a great job of keeping all other elements secure to your deck. What's more, this Loaded skateboard sports an impressive set of wheels.
The kit comes with a set of "Caguma" wheels, which are the result of Loaded's collaboration with Orangatang. The same premium skateboarding gear manufacturer puts its label on the motor liners. Speaking of them, Orangatang fashioned them from a unique material for superior dampening.
If that's not enough, this is one of the motor skateboards with most customization options. First, you get to choose three different kits – Solo, Cruise, or Race. The last one is the most powerful, and it features two motors and batteries.
On the other hand, you can easily upgrade the Solo and Cruise kit if you need more speed and range. Software-wise, this conversion kit features three preset modes that adjust the speed, acceleration, and battery life to your riding style and experience.
But if you use the Loaded app, you can fine tune all the riding parameters to your liking. With this in mind, you should know that this isn't a complete electric skateboard kit. That is, the package includes everything but the deck.
Nevertheless, this isn't a deal-breaker by any means. The kit fits most longboards you can get your hands on. It can also give a new life to the decks you thought were ripe for retirement. Still, it isn't exactly one of the cheapest electric skateboards available – this kit is meant for the serious skateboarder willing to pay a premium for outstanding quality and performance.
Finally, few skateboards with motors offer the same modularity as the Loaded Unlimited. That makes assembly, maintenance, and upgrades a breeze.
The electric longboard motors in the kit provide 840 W or 1680 W of power. It depends on the package you get, and the Race is the most powerful due to the dual drivetrain. The quality and capability is comparable with the top electric skateboards on the market. But don't get things wrong, the single 840 W drivetrain can reach speeds that'll get your adrenaline going.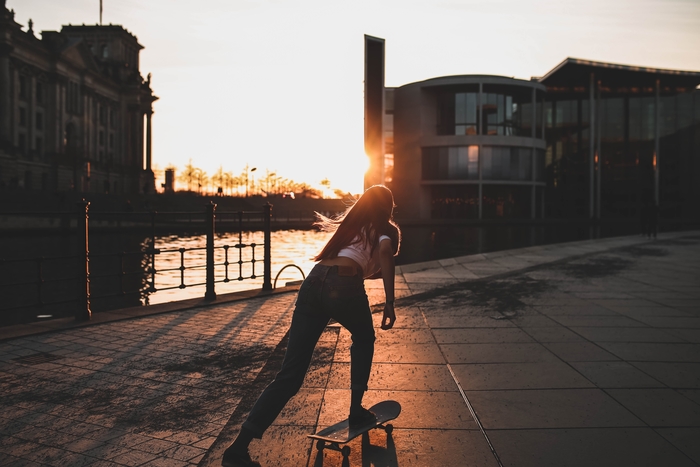 Whichever way you look at it, the Unlimited is fast, even with a single motor and battery. To be precise, both Solo and Cruiser can reach a speed of 23 mph. The Race variant accelerates to 26 mph, and it would be hard to tell the difference without looking at the speedometer. But the mightiest option has other tricks up its sleeve.
Whizzing up a small hill shouldn't be too much of a problem for the Race kit because it can overcome a 20° incline. The Solo and Cruiser kits have somewhat lower uphill capabilities and are both rated for 9° slopes.
On a single charge, the Solo will keep pushing you for about 7 miles. That's enough for a short commute and some weekend fun at around the town. But if you need more, the Race and Cruiser kits will give you 13 miles on one charge. That's almost twice as much as the Solo. And this isn't surprising since they feature two batteries.
With 90 Wh of power, the Li-ion electric skateboard battery is one of the main highlights indeed. Some users dislike the battery cover, but it's not like it is going to succumb to aggressive riding. And the cool thing is that you can get this battery onto an airplane and enjoy sun-drenched rides on your vacation.
This mighty longboard kit should recharge from 0 to 100% in about 80 minutes. This time applies to a single battery, and you might expect double that if you have a kit with two batteries. However, the balanced charging feature allows you to power up both cells a bit faster, plus they self-balance.
Given all the other specs, some users might find the Loaded Boards controller a bit underwhelming. That's mainly because the device is thumb lever operated. But in reality, the controller is well-built and sits well in your hands. Those with bigger hands might struggle a bit to get a good grip.
As indicated, this electric skateboard kit comes with the Orangatang "Caguma" wheels, which are designed for durability and performance. The material is "voluptuous" urethane, and the contact patch is 56mm. The entire wheel measures 84mm, and it provides grip, handling, and traction that's hard to match. Besides, that makes it suitable for various riding styles.
Without a doubt, the Solo kit is one of the lightest in the market at 4.4 lbs. But you shouldn't struggle to carry around the Cruiser either because it's only 2.2 lbs. heavier. The Race kit is the heaviest at 9 lbs., though you do get superior speed, range, and hill-climbing capabilities
Those who are 240 lbs. or less should expect a smooth ride with this electric skateboard motor kit. But if you are close to the maximum weight, you should consider getting the Race model. Dual motors and batteries allow you to reach max speed and battery life even under full load.
Premium Structural Elements
High-end motors, wheels, and batteries are enough to make the Loaded Boards Unlimited one of the best. But there's also the carbon baseplate which won't let you down after running the board through its paces. And the Orangatang motor liners' ability to dampen vibrations is hard to rival.
Presets and Regenerative Braking
Regenerative braking is there to allow for more control over your ride, and it improves the Loaded skateboard safety. Easy, Echo, and Pro, are the three default braking presets you can choose as per your riding style. And should you need more control, the Loaded app allows you to tweak acceleration, top speed, and braking.
Who Should Buy This Board?
Veteran skateboarder or a complete novice, you should find that this longboard kit ticks all the right boxes. The premium materials and exceptional build quality are there to make the Unlimited as durable and reliable as possible. Then, it's easy to put together and further customize to your liking. Finally, you get everything you need in the box (except the deck).
What are Loaded Longboard Decks?
Loaded longboard decks come from Loaded Boards, the company that specializes in top-notch skateboarding accessories and gear. The deck design varies from the traditional pintail to drop-through carving boards. And the great thing is that the company allows you to personalize each board and choose different accessories based on your preferences.
How to Maintain a Loaded Longboard?
There is no science to keeping your Loaded longboard in tip-top shape, and it helps that they're so well-built. So you should give the board regular TLC and expect it to be in perfect order for years to come. But what do you need to do?
First, the board requires regular cleaning with agents that won't harm any of the structural components. You should also keep the board indoors and away from moisture and extreme temperatures. That goes double if you're using one of the DIY electric skateboard kits.
Occasionally, you'll need to change the grip. But the procedure is simple, and you can do it at home. What's more, you should inspect all the structural and functional components of your board from time to time.
Make sure everything is in place without any wobble or serious damage. Don't forget, a small thing like a worn off wheel can throw you off balance and potentially cause injury.
What Is the Best Loaded Longboard for Cruising?
Getting the right answer to this question might be tricky because the final verdict depends on the rider's preferences. But certain traits do make a longboard cruise-friendly.
For example, Loaded Icarus is an excellent option for cruising. That's because the board has a drop-through deck with ample flex. Besides, it incorporates vertical bamboo and fiberglass in the construction, which makes it quite versatile and easy to ride.
Why We Recommend This Board
This Loaded Unlimited review should have provided you with enough info about the highlights of the kit. But it wouldn't hurt to reiterate some of the points.
Premium quality is the main asset of the Unlimited. The moment you get your hands on the kit, it looks and feels sturdy and well-engineered. Then, you should be able to retrofit your favorite deck in a matter of minutes and test the rig out.
However, it's the riding experience that makes the real difference. The speed, comfort, and agility are bound to make you happy, and the Loaded Unlimited may become your go-to choice for the daily commute.